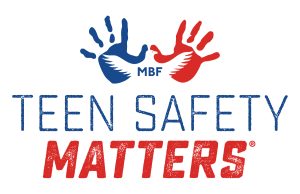 MBF Teen Safety Matters® is a comprehensive, evidence-informed prevention education program for high school students in grades 9 – 12.  The program addresses emotional, physical, and digital safety, and teaches students and adults how to prevent, recognize, and respond appropriately to the four types of child abuse (physical, emotional, sexual, neglect), exploitation, trafficking, sexual assault, relationship abuse, bullying,
cyberbullying, and digital dangers.  These two 55-minute fun and engaging classroom lessons can be presented in four shorter lessons to prevent information overload.
This program helps schools meet many required bullying, child safety, and child abuse prevention requirements.